THE LAST BEST STORY

Can the story of a lifetime finally turn best friends into something more?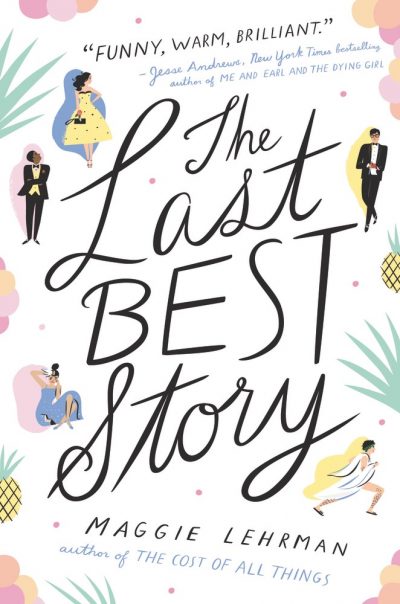 It's the end of senior year and Rose Regnero is over it.
She's over chasing stories for a school newspaper no one reads. Over missing out on "normal" high school life. And most of all, over Grant Leitch: editor-in-chief, former close friend, never-quite boyfriend. Now all she wants is a typical prom, complete with handsome date, fancy corsage, and dancing to cheesy pop songs.
It's the end of senior year and Grant Leitch is in denial.
He's in denial about handing over the reins of the paper to an unworthy underclassman. In denial that Rose suddenly, inexplicably quit the paper and now won't talk to him. But mostly he's in denial that she is at prom with another guy, and it's no one's fault but his own. Grant's only hope to bring Rose back to him (and the paper) is a juicy story she won't be able to resist.
In the end it takes a toga-wearing prom-crasher, an emergency lockdown, a secret stalker, and a wild afterparty to bring Grant and Rose together for one last story… and one final chance to admit their true feelings for each other.
"Love, journalism, and teenage angst collide in this sweet story of missed opportunities and second chances. An earnest high school romp as intrepid as its sleuthing protagonists."
—Kirkus Reviews
"Spirited characters and entertaining story line."
—Booklist
"The Last Best Story is the first best high school newspaper screwball romantic comedy. Rosie and Grant are funny and warm and too brilliant for their own good, and I would spend another 1000 pages hanging out with them if I could."
—Jesse Andrews, New York Times bestselling author of Me and Earl and the Dying Girl
"Honest, messy, and infinitely charming. This is my favorite kind of love story."
—Becky Albertalli, award-winning author of Simon vs. the Homo Sapiens Agenda
"Smart and bighearted and deliriously fun."
—Katie Cotugno, New York Times bestselling author of 99 Days